We Are Family / Ed.Delcourt @ Teresa Valero et Marie Pavlenko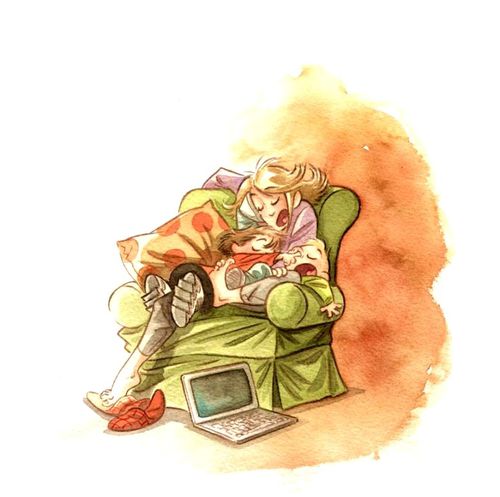 WE ARE FAMILY T.1 Teresa Valero / Marie Pavlenko - Ed.Delcourt - I wrote the script from my late blog omelette with bacon, Journal of tétarologue, I fed regularly from 2008 to 2010. And in which I told my mother daily writing at home in the middle of the bazaar family ...
Madrid is the designer Teresa Valero who put this comic images. Teresa has long worked for the animation, it has a great stroke of a pen. She painted in watercolor album, with a breathtaking mastery and patience. Rendering is light, touching, sublime. Teresa is also a screenwriter, she wrote Witchcraft, a youth series designed by Juanjo Guarnido (Dargaud) and Curiosity Shop, another series, which won numerous awards, with a nice strong heroine like them, drawn by Montse Martin (Glénat ). Work with a designer who is a writer is something quite amazing because ... she knows what it's writing! And has three children, which also helps. "
Marie Pavlenko